Standard Indoor Signs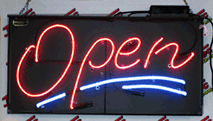 Our standard indoor signs can be hung in your window or an a wall. Our open construction allows for maximum visibility and reduced glare. Our indoor signs come in your choice of Matte Black, Smoked or Clear backings. Click Here to see examples. Once received all you need to do is hang it up and plug it in.
Encased Outdoor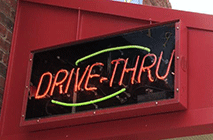 These UL Certified signs are designed for wall installation and come ready to be mounted and wired directly into your electrical circuit. Inside of the metal casing is painted Matte Black for maximum visibility of the neon tubing. The outside of the case is primed and ready to paint in your desired color. Click Here for details.
Vintage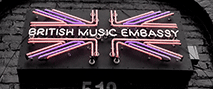 Inspired by the classic outdoor signs from the 50's and suitable for both indoor and outdoor use. These UL Certified signs are made from lightweight aluminum and will never rust or corrode. Metal Sign Case comes unpainted or in one of our standard "vintage" colors, or custom painted to match your needs. Modular construction allows even the largest sign to be shipped directly to your business via Freight. Click Here for details.
Wall Art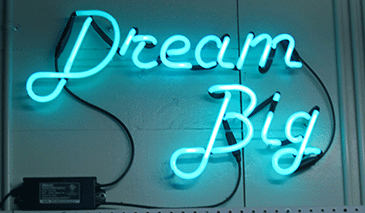 Neon Wall Art is the ultimate in artistic signage. With the neon Wall Art you are able to mount the glass directly to your wall eliminating the need for a backing. Used frequently in advertising and set design. Wall Art can be both a statement piece and add additional lighting to a dark space. The only materials you need to provide when installing Wall art are the screws and anchors. We provide everything else.