Whether you require neon for art or advertising purposes you can choose from our huge selection of stock designs or have something custom created just for you. Jantec Neon Products creates high quality neon designed to get you noticed for all the right reasons.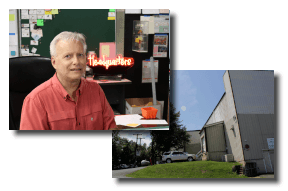 OUR STORY..
I am guessing that our story begins a lot like yours- with a desire for independence and the freedom to chart your own destiny. In 1993 Jan Legere (our founder) left his job as president of a light bulb manufacturer to start his own business. He went from setting up lamp plants in...

CREATING A NEON SIGN..
Old fashioned craftsmanship and state of the art technology are mixed to create beautiful long lasting neon signs. There is so much more to a neon sign more than just being a pretty picture, to get the most out of the medium this means a sign must be created by a person- not a program. Our designers can help you create a neon display that will convey the message and image you wish to deliver.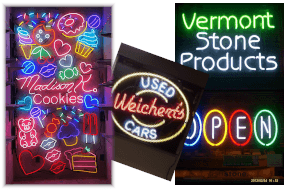 CREATIVE DESIGN..
A well designed sign is so much more than just a pretty picture. Work with our designers to create something that will catch the eye of your customer, tell the story of your business, and is engineered to keep working for decades.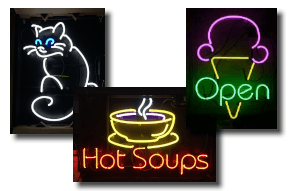 OUR PRODUCTS..
We specialize in window signs, but we also carry a full line of outdoor signs, wall art, vintage style signs, and neon sculptures. If you don't see what you need, we can always custom make anything you want.

Contact Us