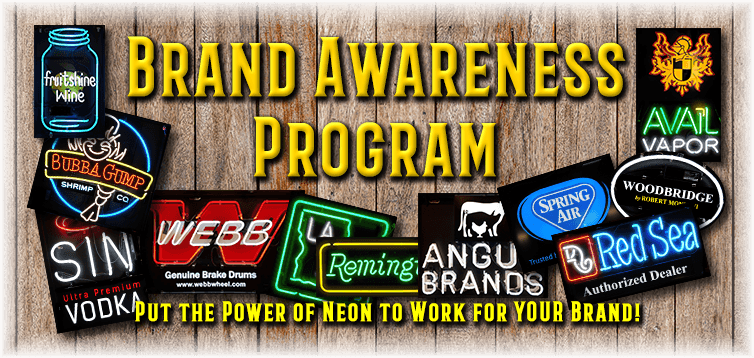 Are potential customers familiar with your Business Logo and what it represents?
Do your loyal followers want merchandise related to your BRAND?
Do you need to place a bulk order?
Our Brand Awareness Program has been designed to help you. A Quality Neon Sign is a PROVEN form of advertising that has lasted the test of time and continues to effectively attract potential customers with the Bright Glow of Neon Tubing!
For just a small investment, neon signs will showcase your brand name to thousands of potential customers!
There is so much more to a neon sign more than just being a pretty picture, to get the most out of the medium this means a sign must be created by a PERSON- not a program. Our designers have over 22 years of combined experience, degrees in graphic design, and extensive training in the engineering of neon signs. They can help you create a neon display which will convey the message and image you wish to deliver. Our designers have a clear understanding of strengths and challenges of this unique medium and have learned how to create signs that are not only beautiful but are also built to last. Let our team use their years of experience to Create a Neon version of your Logo or Brand that will work non-stop for years to come.
No matter what sign you need or how many you are looking for you can know that Jantec Sign Group will put their 25 years of Neon know how into making you the best neon sign possible. All you need to do is Click the Graphic below to fill out our simple, online Quote Request Form or call us at 888-526-8321.

How much do the signs Cost?
Signs are priced based upon a variety of factors

Size - We can make your sign any size that you wish, but for the best value choose one of our stock sizes.

Design Complexity – All neon signs are still hand bent by a skilled craftsman!

The complexity of the design can make a big difference in the price.

Our trained designers can help decide how to transform your paper logo into neon and make it look great.

They can also use our Neon Plus Technology* to add details at a reasonable price.

(*Ultra Bright Neon Grid who's light is masked to show more detailed lettering and graphics)

Sign Type - We offer several types and styles of neon signs for indoor, outdoor, wall, window or freestanding use.

CLICK HERE

for a description of the sign types available.

Additional Options -

Options like remote controls, flashing and animated signs are all available for an additional cost.

Quantity - We always start with a prototype to make sure everything is just right!

Then we offer discount pricing based on the quantity ordered.

Price breaks are normally given at the 2-10 quantity, 10-39, and 40 plus.

Need More?

Just ask! Call us at

888-526-8321.
Our Neon Production Floor has been streamlined to produce large volume orders quickly, and efficiently. All of our Neon Signs are made with glass that is Hand Bent right here in Mount Airy North Carolina. Quantity Order Discounts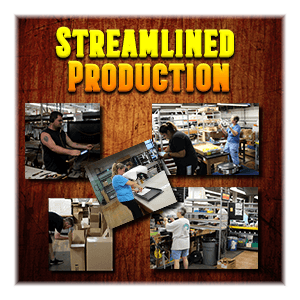 are also available to help maximize your budget, and increase your advertising reach!
Once your quantity order is complete, we will warehouse your neon signs free of charge. We will then drop-ship these signs directly to your individual customer locations via FedEx or UPS Ground at your request!