At Jantec Sign Group, complete customer satisfaction is our Goal. We take pride in providing our customers with quality Neon Signs at manufacturer direct pricing; and receiving feedback from our Customers is very important to us.
We would love to hear from you! Click Here to share your experience and let us know how we are doing!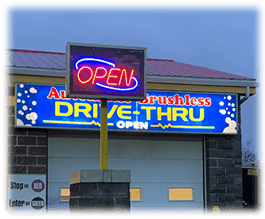 "My new Neon Sign arrived today in perfect, well packaged condition. Just wanted to send you a picture and thank you for the Great Service and Beautiful Product!"
Rick
Scotty's Car Wash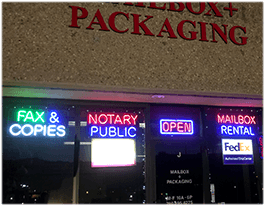 "Hello there - I purchased 3 of your stock neon sign and I just had to send a photo of the signs in action, hanging in my store windows because they look so great. Thank you for the super bright light, the very high quality sign construction and ESPECIALLY for the amazingly thorough packaging. I am a packaging expert and even I am impressed with the method of mounting the signs on the inside box. Your package designer should be commended for such a unique packing method. They will serve as a great advertising medium for our store as they have already brought in new customers to the store in just their first week of use. Thank you very much for such wonderful neon signs!"
Dan McKee
Mailbox + Packaging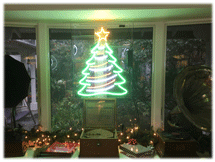 "I love these guys. Whether I'm buying one of their standard designs, or a custom creation, I know I'll get high quality neon at a fair price and packaged securely to arrive working."
Butch Winters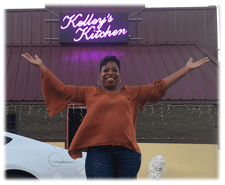 "Here is a picture of our Vintage Neon Sign at Kelley's Kitchen in Port Arthur TX. We are very happy with the sign; it was made to specification and the color is exactly what we wanted. Great job on producing our sign we simply love it."
Hilton Kelley
Kelley's Kitchen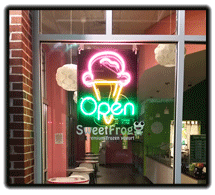 "The sign is exactly what we wanted. It can be seen from the road and attracts attention. Thank you for making this shopping experience pleasant and smooth!"
Sue Mulcahy
Sweet Frog
Wife:
"I ordered this Custom Neon Sign as a Christmas Gift for my Husband. Customer Service could not have been better. All e-mails were responded to within an hour or two and the price was very reasonable."
Husband:
"I Absolutely LOVE the neon sign! It makes my basement arcade shine and glow. Thanks so much for such a great product!"
Theresa Ramos - Satisfied Customer
Lincoln, NE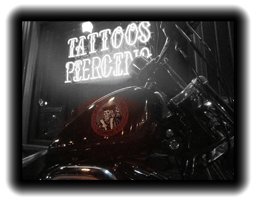 "Advertising for my tattoo shop can be tedious especially when I want to combine a modern image with a traditional style while avoiding a generic appearance. The retro look of a neon sign combined with this old-school font made my business shine in the night without being obnoxious. I am very happy with this purchase and I will be ordering several custom signs for my business and club house. The Jantec crew are subject matter experts and I have full faith and confidence that my next sign will be as awesome as this one! Thanks y'all."
Bison G. DiBlasi - Art Attack Tattoos
Richmond, KY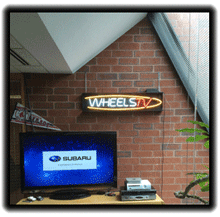 "Very pleased with the entire process which was very easy. The sign is identical to our logo. Each step from forwarding our logo to receiving the artistic rendering was simple. Customer service always answered each question immediately. I had some reservations about ordering something like this on line but would not hesitate to do so again and I would highly recommend this company to anyone. The sign was delivered ahead of schedule and came in impressive packaging to protect it's journey. A very good experience and we are very pleased."
Lehel Reeves - WheelsTV
Acton, MA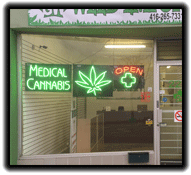 "My Jantec signs are great! They stop people in their tracks and bring them in our new store! The neon signs arrived in excellent packaging and my delivery deadlines were met!"
Glenn Oakes
North York, CA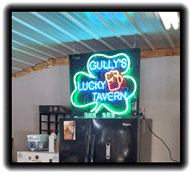 "My girlfriend ordered a custom neon sign for my tavern, and I absolutely love the sign. The craftsmanship is bar none; the best I've seen. I will be ordering many more to come. Thank you"
Dustin G.
Minot, ND
"Here is a picture of my husband standing in front of his place of business; next to the beautiful neon lights that we purchased from Jantec Sign Group. They are exactly what we were looking for and your company does an excellent job from start to finish. We are 100% happy with our purchase!"
Arlo & Patty Peterson
Cloquet, MN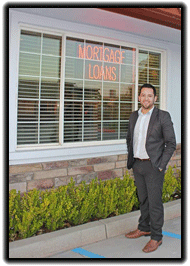 "I contacted Jantec Sign Group about interest in a Custom Neon Sign and told them what I needed. I received artwork for my request the same day. I ordered my custom sign and received it within 10 days; and now I love it!"
Antonio - Zabe Mortgage Company
Madera, CA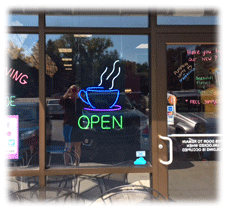 "Our Coffee Cup Neon Open Sign from Jantec looks Great. Thank you!"
Rene Hankins - Yogurt in Love
Terre Haute, IN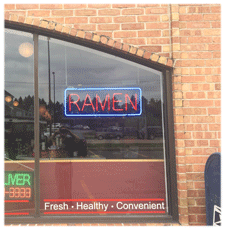 "My Ramen Neon Sign arrived in working order and it Looks Great in my store window!"
David Cooper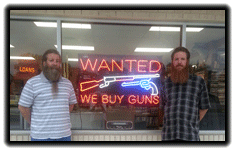 "We are very pleased with all of our Jantec Neon Signs. They are Bright, Colorful and Visible from Blocks away. We have noticed an increase of new customers as a result!"
Chris Mathis - Jack & Dicks Pawn & Gun
Junction City, KS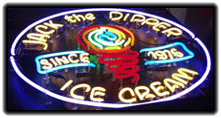 "From the initial contact and design process, through to the Production and Shipping Process, our experience was perfect! Everything that the Jantec Staff promised, they delivered upon. There is no need to look anywhere else for neon signs. You will not be disappointed."
Dana Smith - Jack the Dipper
Sylva, NC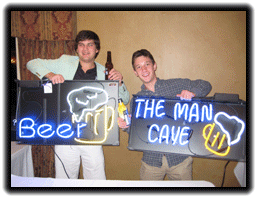 "I found Jantec online and purchased 2 large neon signs. My order was placed on a Monday and I took delivery of my neon signs within 3 days! My signs are magnificent, and the customer service was unparalleled! Scott was my Jantec Sales Representative, he gets a Rock Star rating from me. I would highly recommend Jantec Sign Group to anyone looking for Top Quality Neon Signs and a trouble-free ordering & delivery process. I am a VERY SATISFIED CUSTOMER and definitely plan to do business with Jantec in the future."
Barbara - Treasure Chest
Olathe, KS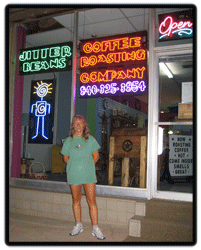 "We Love Our Neon!! Hand Made Just for Us, our Neon Signs are The Best Looking Signs in Texas! These signs Make People Stop and Turn Around for the Best Fresh Roasted Coffee in Texas. Neon; the Traffic Stopper! We Love Jantec Neon!! "
Laura (Spud) and Bryan Marsh
Jitter Beans Coffee Roasting Company
Mineral Wells, TX
"I searched online for sign companies and found Jantec Neon. Your Company offers the Best Product for a Good Price. Shipping was Fast and my Tattoo Neon Sign arrived in Perfect Condition. Thank You!"
Jacob Hammon
Clearfield, UT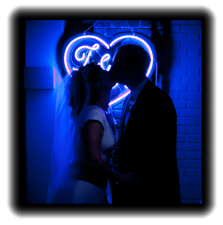 "Even though we made multiple revisions to the sign design, Melissa and Scott were Courteous and Responsive to my less-than-technical feedback. They followed up with me and gave me the sense that they really wanted my business and Satisfaction!"
Tammy Baiko
Wantagh, NY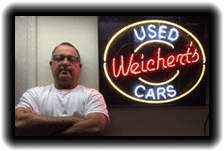 "Awesome Sign!!! I first thought that I should have seen more ideas than just one during the design process, but my Custom Neon Sign turned out just perfect!"
William Weichert
Sullivan, WI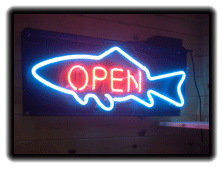 "The Design and Workmanship of my Fish Neon Open Sign is Superb! The care that you take in Packing and Shipping process is probably the best of any item that I have ever received. Thanks so much!"
John Hallman
New Smyrna Beach, FL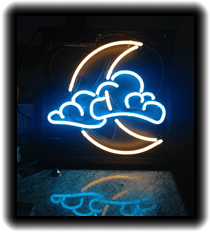 "Thanks so much for my Custom Neon Sign and for all of your help! You guys were professional and a pleasure to work with. My Fiancé loves the neon! I wish you the best moving forward! "
Jack Pedersen
Sunnyvale, CA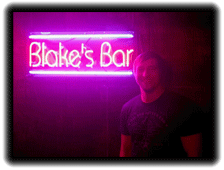 "We ordered a custom neon sign as a Birthday present for one of our friends. When it arrived, there was nothing wrong and when we plugged in the neon sign, it blinded us! Needless to say, our friend was speechless when he saw his sign and it has now become the attraction point of the room! Great product and it arrived in a timely manner with no problems!!"
Stefanie Colwell
Fort Wayne, IN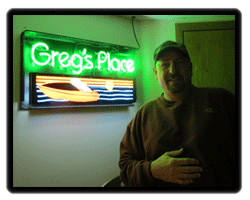 "Great Finished Product! The Jantec Staff were Easy to deal with and Very Cooperative and Understanding to my sign request needs. This sign was a gift for my Husband for our 25th wedding anniversary and he really loves it! I will definitely recommend your company."
Ronnie Sunila
Menomonee Falls, WI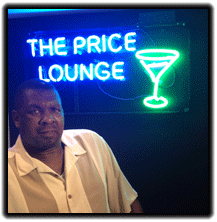 "Your product was delivered in a timely fashion. The packaging was great; it protected the neon sign very well and the workmanship is good. I would recommend Jantec Sign Group to my friends. I am very impressed with the look of the sign and I am Happy with the overall experience."
Richard Price
Stroudsburg, PA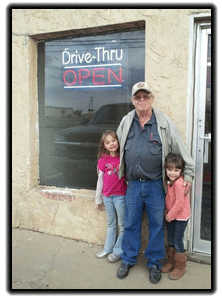 "We love love love our new sign! It caught peoples attention the very first day we placed it in our window. Our drive-thru opens at 3am and thanks to our new sign, we have new customers everyday! Thanks Jantec!!"
Kellie, Donut Shop
Plainview, TX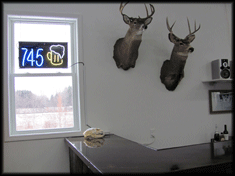 "After I put in my request for a quote, I heard back from Jantec the very next day. I was impressed at how prompt you were! I asked for a slight modification to the original proof, and that was no problem, and the change was made in the same day. The sign turned out great, we love it - you did a great job!!!! Thank you!"
Amy Martin
Auburn, MI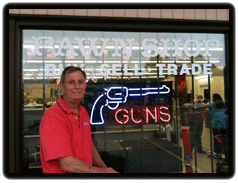 "I have purchased two Neon Signs for my Pawn Shop from Jantec Neon. The two signs arrived very fast and work perfectly! The signs add a special touch to my window advertising both day and night. The Customer Service is the very best around, anywhere. I would suggest to everyone looking for neon signs to look at the products that Jantec Offers!"
Tommy, Alamo Money Mart, Inc.
Panama City, FL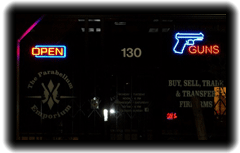 "I ordered my Guns Neon Sign off of EBay from Jantec with not so great expectation; I was ABSOLUTELY wrong. the Quality and Craftsmanship of my neon sign is SECOND TO NONE; ABSOLUTELY EXCELLENT! Great Quality, Super Fast Shipping, and Excellent Customer Service. THANK YOU! I will always buy from Jantec from this point forward for all of my neon needs. Thanks a Bunch and Best Regards."
Marcel, The Parabellum Emporium
Phoenix, AZ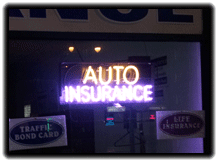 "My Neon Sign was packaged in good quality packaging material that was suitable even for priceless antique glassware. There was no way that the neon sign could be damaged in transit. The convenience of being able to test the neon tubing while it was still inside the packaging was also a plus point."
Abdullah, Kanji Insurance
Chicago, IL
"Our Neon Open Sign arrived to us Very Well Packaged; I don't think it would have broken if a truck had ran over it! We plugged it in and were very happy! We couldn't have asked for Better Service, or a Better Product."
Charles Glisson, Arizona Native Gifts
Black Canyon City, AZ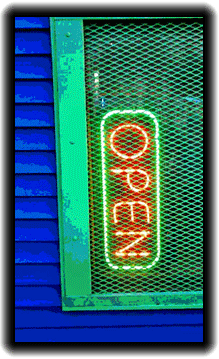 "Business is good! Jantec NEON makes all the difference! My new 'OPEN' neon looks 'Classic' with the red letters and cool green border (which I have turned on its side) looking like my surf board sign for 'Mike's Barber Shack' here in South Portland Maine. My great customers no longer have to 'guess' if I am still cutting hair, because they can see it's gorgeous "Glow" from the street. It's beautiful, and although I prefer it on solid the 'blinking' feature is very practical when the sun hits at a particular angle. I finished at Winston-Salem Barber School years ago, so your family shop for NEON gives my sign even more meaning y'all being there in 'Mayberry' where Floyd's Barber Shop still stands! Lastly, I greatly appreciate an actual friendly associate answering the phone to help me get my new neon out of the box. I Highly recommend Jantec, and I am sure to order another NEON for my shop or home! Thank you!"
Michael Parent, Mike's Barber Shack
South Portland, ME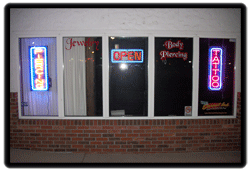 "I have to say that I ordered a less expensive, neon open sign prior to ordering my Tattoo and Piercing Neon Signs from Jantec. The signs ordered from Jantec are AMAZING! They make my cheap open sign look like it is not even turned on. I have talked to everyone in my industry and have passed this information on. Jantec Neon is the best hands down and the ONLY company I will use from now on for all of my neon products.... Thank You."
Brandan Palma - Old School Beauty
Poplar Bluff, MO
"I just don't see how it could have gone any smoother. The price was right, and the sign was EXACTLY what I wanted! This neon sign was packaged so well that it made it all the way across the country without the shipping companies breaking it!! Thank you, I'll be back."
Ed Kubinski, Goodies Galore
Fountain Hills, AZ
"I am a return customer who purchased a custom neon sign from Jantec Neon about 10 years ago when we first opened our store. It was a Pizza sign with phone number. This sign has been on for the last 10 years and is still as bright as when we first received it. When we decided to get another neon sign, I knew exactly who to call thanks to your sticker on the back of my Pizza sign. AWESOME SIGN! I'm looking forward to receiving my new sign."
Lisa, Calabria Village
Linden, MI
"I shopped around with different companies before finally choosing Jantec Neon to make my Custom Neon Sign. My biggest selling factor with your company was your promptness in responding to every e-mail that I sent; even when there were weeks in between my responses. One company I called never answered their phone or called me back. Another company promised me a quote within 24 hours, but a week later, they still had not delivered. So, Thank You for making me feel like my business is important to you and Thank You for helping me add the finishing touch to my new Salon!"
Traci, Salon 25
Sebewaing, MI
"Knowledgeable answers to all my questions, competitive prices, and fast shipping with excellent packaging. Your company has exceeded our expectations - very highly recommended! "
John, Owen Motor Sports
Charleston, IL
"We have been extremely satisfied with Jantec. We have ordered about 50 neon signs from you at this point for our 24 locations in GA and NC. We appreciate your efficiency and your friendly customer service. Even when two of our neon signs arrived damaged, they were replaced with no hassles. You run an excellent business - you process orders quickly and get all of the specs right every time. Good Job! "
Cathy, PawnMart
Norcross, GA
"How Wonderful to work with People who care about providing the customer with a Great Customer Service Experience. Thank you Jantec."
South of Heaven Tattoo
Key Largo, FL
"I could not be happier! I did get a quote on my Custom Sign from a local sign company who I have used for years. When his quote came in very high, I decided to shop around online. I am very glad that I chose your company. Your price was hundreds of dollars less than the local company and the sign is perfect; just the way you designed it! Thank you and it was a pleasure doing business with Jantec!"
Larry, Geaghan's Pub
Bangor, ME
"My Business is located in a large shopping center and the Steaks Neon Sign that I purchased from Jantec is a Great Addition to the front window of my business. I have already had many positive comments from customers! The Service and Price were Great! "
The Butcher Shoppe
Stuart, FL
"The neon sign is exactly as it was listed; it works and looks great and arrived quickly. Thank you! "
Thomas, Cool Ghoul Tattoo
Clearlake, CA
"I purchased a stock Neon Sign from Jantec Neon, installed it in my window, and 30 days later I have doubled my sales for that product; not counting add-ons!! I should have purchased this sign 23 years ago when i first opened! "
Tom, The Grateful Shed
Bozman, MT
"I am very pleased with the overall service from Jantec Neon and I am very happy with our new neon sign. It's Great! Thank you for all of your help!"
Letty, L & L's Unique Shop
Lubbock, TX
"I am very satisfied with the Prompt Production Time and Quality of my Custom Neon Sign. The Customer Service I received from your staff was great and I WILL be ordering more signs from Jantec in the future! "
Bison, Art Attack Tattoos
Richmond, KY
"Everyone that I dealt with at Jantec was Pleasant and Professional. My order was delivered in 2 parts, safely wrapped, and in the time period promised. The Quality of the Product is Excellent and priced fairly. I will use Jantec Neon for any other signage needs for my business in the future. Thanks!"
EY, Yori's Church Street Bakery
East Chester, PA